Better Eating Choices for Your Teeth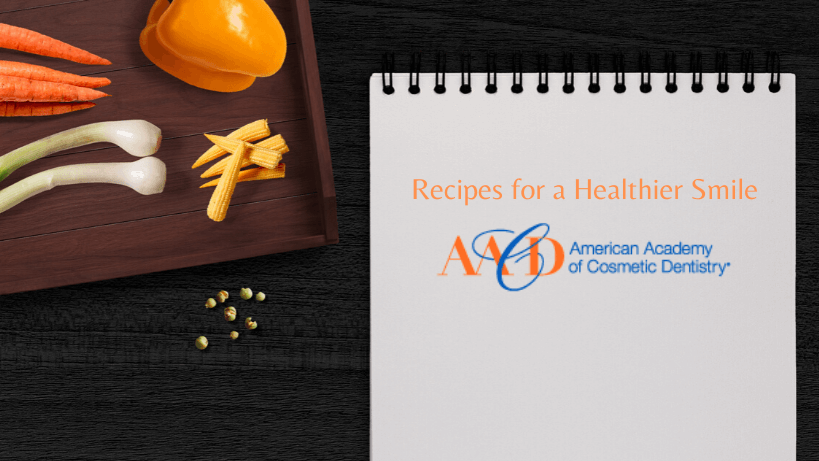 Throughout the year, many of us indulge in foods that are harmful for our teeth at holiday parties or events. Foods like soda, candy, red wine, or even sugary cocktails can stain teeth and cause tooth decay.
New from the American Academy of Cosmetic Dentistry, there is an ecookbook focused on teeth-friendly recipes. Recipes For a Healthier Smile provides several recipes  using vegetables and fruits considered to be "super smile foods," and was created with the help of nutritionist Karen Krchma and AACD Member Dentist Dr. Shawn Frawley.
Here are just a few foods that can help promote healthy smiles:
Basil: a natural antibiotic, reduces bacteria in the mouth.
Broccoli: forms an acid-resistant film on teeth that can help prevent enamel erosion.
Carrots: full of Vitamin A which is absolutely necessary for the formation of tooth enamel. This and all crunchy vegetables also cleanse and stimulate your gums, making them healthy.
Cheese: offers the benefit of lactic acid to help prevent tooth decay.
Celery: activates saliva production which assists in cleansing food particles from the teeth and dilutes sugars or acids in the mouth. Chewing celery also massages the gums.
Ginger: an anti-inflammatory to support healthy mouth tissue.
Green tea: contains an antioxidant called catechin which reduces bacteria growth that causes gingivitis.
Check out Recipes For a Healthier Smile today. Feel free to post it to your practice's Fac ebook, Twitter, or Pinterest page!