Dental Implants and Anxiety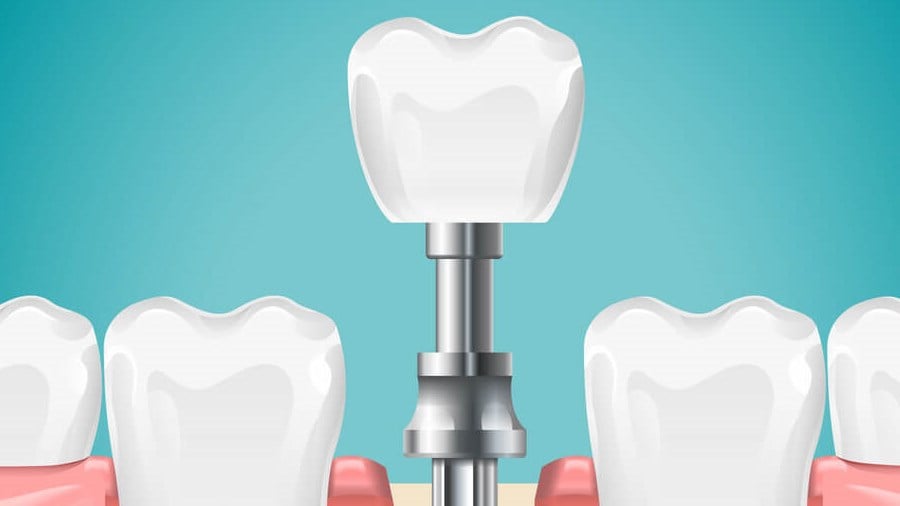 It isn't uncommon for people to be afraid to visit the dentist's office. It doesn't matter if the patient is a child or an adult, anxiety can often be a barrier for needed dental work to be done, and the more involved the treatment, like dental implants, the higher the anxiety can be.
If you and your dentist decide dental implants are the right treatment for your missing teeth, your dentist will develop an individualized treatment plan customized to your dental needs, and will talk with you in detail about how the procedure will go, what to expect, and answer any questions you may have. It's important to be comfortable with the surgery and informed about the treatment process.
Common Causes of Dental Anxiety
There are may common concerns and sources of anxiety that patients express. Commonly, patients have concerns about pain, needles, or concerns about treatment triggering their gag reflex. Others are embarrassed by the condition of their teeth and have concerns about being judged by their dental team. In any case, it's important to communicate with your dentist about the source of any anxiety you're feeling. 
Good two-way communication can help your dentist to take steps to calm your concerns. There are steps a dentist can take to address your concerns when they know about them. If you're concerned about your gag reflex being triggered, your dentist might explain that anesthetics and sedation suppress the reflex.  If you're concerned about needles, many dentists can even use a numbing treatment before injecting any anesthetic at all. If you're concerned about pain, the simple acknowledgement that the dentist has calculated the correct amount of anesthetic to keep you comfortable and pain-free can go a long way. Modern anesthetics ensure that the patient will be kept completely pain-free throughout the entire procedure. Any discomfort afterwards can be treated with medication. AACD dentists use the latest techniques for pain management and keep your comfort in mind throughout each visit. 
If you're embarrassed about the state your teeth have ended up in, don't worry! Dentists aren't in the business of judging or shaming patients for past accidents or mistakes. Their primary concern is to help you achieve that perfect smile, get your oral health back on track, and help you take care of your teeth. They can help you stop being embarrassed by your smile, and get you on the way to a bright, new smile with beautiful new teeth.
Sedation Dentistry for Anxiety
For some patients, simply understanding that they'll be kept pain-free with local anesthetics isn't enough. When a patient is particularly nervous about treatment, sedation dentistry presents an excellent option. Oral conscious sedation dentistry is taken by prescription in pill form, avoiding needles that many patients are anxious about. It helps with relaxation, calms anxiety and fear. While sedated, the patient is awake, but in a calmed and sedated state which allows the patient to be receptive to directions while in the dentist's chair. Most patients have no memory of the treatment after receiving oral conscious sedation. 
Your dentist wants to leave you with a positive dental experience, from start to finish, and to give you a safe, comfortable place for all of the procedures that are part of dental implant treatment. 
Implant Success 
Some patients are often concerned about the success rate of dental implants, and it is easy to see why. Dental implants can be costly, and the process is time consuming. With those factors in mind, patients naturally want to be able to expect a successful outcome. 
Dental implants are very successful with proper care. Patients who are at risk for an unsuccessful implant typically are heavy tobacco users, or have other health conditions that have a negative impact on the body's ability to heal and accept implants. Your dentist will discuss any case in which your medical history could prevent you from having oral surgery or tooth replacement, but rest assured, those cases are very rare. It is recommended that if you are a smoker or tobacco user, you should quit before having dental implants, to help increase the likelihood of success. 
Cost Concerns
For those who are worried about the cost of dental implants, it can help to ask your dentist if they offer a program through a financing organization to help with the expenses, especially for those without dental insurance. For patients with insurance, your dental team will work with your dental plan to help make sure all possible aspects of the procedure are covered. 
If you believe you are in need of dental implants, or if you would like an examination and consultation, consider reaching out to an AACD dentist. They will be ready to discuss procedures with you, to talk about your potential concerns and anxieties, and to ensure your new replacement teeth enhance your smile. Your dentist wants you to get the care you need, to be a source of comfort and accommodation for those experiencing anxiety, and to help you have the best dental experience possible.  
About the Author: 
Andrew McCormick, DDS, FAACD, is an Accredited Fellow Member of the American Academy of Cosmetic Dentistry and is the owner of Andrew T. McCormick, DDS , a cosmetic dentistry practice in Santa Rosa, CA. In addition to practicing excellent cosmetic dentistry, Dr. McCormick enjoys spending time outdoors and donating his services to worthy causes in his community.