Want a More Youthful Appearance?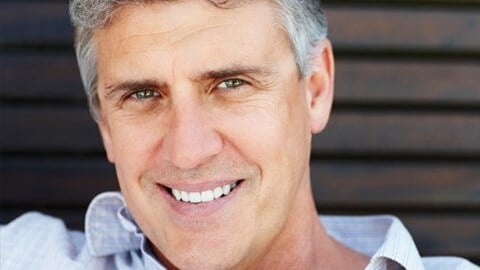 Does work or personal stress make you look older than your real age? A study by the American Academy of Cosmetic Dentistry (AACD)says smiling can help you appear younge r, but cosmetic dentists say damaged or yellow teeth could have the opposite effect.
The study, conducted at the Max Planck Institute in Berlin, showed that people are most likely to underestimate the age of a person if he or she is smiling. We tend to find smiling faces more attractive, youthful, and upbeat. A smile or laugh's age-defying power may lay in the fact that smile lines make it challenging for an observer to correctly predict a person's true age, according to Dr. Ed Lowe, editor-in-chief of the AACD's Journal of Cosmetic Dentistry.
Many start to see their smile deteriorate during their 30s and early 40s due to lifestyle and health habits that wear teeth and damage skin over time. The AACD shares the following tips on how to reverse the effects of aging on your smile.
TOOTH CONTOURING, RESHAPING
Dentists can often predict a patient's age by checking the wear patterns of their teeth. Teeth naturally wear down, crack or chip as people get older. Common procedures cosmetic dentists use to rejuvenate smiles include:
Tooth contouring and reshaping. This procedure can correct minor imperfections by simply polishing the worn edges and sharp angles of your teeth, making them appear more aligned and symmetrical.
Porcelain veneers and crowns can restore and enhance a portion or nearly all of a tooth's original structure, function, and esthetics.
Dental bonding conceals gaps, chips and stains by sculpting a tooth colored resin composite to give the appearance of more attractive teeth.
WRINKLE, WRINKLE, GO AWAY
Wrinkles around the mouth are a definite sign of aging. Try these tips:
Use moisturizer around your lips and wear a lipstick or gloss with a SPF of at least 15, preferably higher. This will help prevent further development of new wrinkles.
Stop smoking and try to avoid second-hand smoke as much as possible.
Prevent premature aging and wrinkles by eating foods rich in antioxidants like berries, beans and even dark chocolate.
REPLACE SILVER MERCURY AMALGAM FILLINGS
Black silver mercury amalgam, which has been used for decades to repair cavities, expands and contracts, causing tiny cracks in teeth that can possibly be a concern over time. Replacing that material with a new tooth-colored composite resin filling may be a prudent approach to both brighten and alleviate any further breakdown of the tooth. For the same reason that tooth decay looks bad, black mercury fillings show your age as well. 
WHITEN TEETH
Teeth become discolored over time from drinking, smoking, and neglect. Whitening advice:
Don't overdo it. A youthful smile is not obviously white, but healthfully white.  Cosmetic dentists are trained to select the appropriate, natural shade of white.
Once teeth are whitened, avoid staining drinks such as grape juice, red wine, tea, and coffee, and definitely don't smoke.
Dr. Lowe also says that one simple preventative measure is to rinse with water after you eat or drink anything to proactively prevent stains from developing in the first place.