Tooth bonding is a popular treatment option because it provides a successful attachment between the filling material and the tooth's original enamel and dentin. It looks like the original tooth and functions like it as well.
Direct composite bonding is used to recreate a smile in an additive manner, where little or no tooth reduction is needed. Direct bonding, in the hands of a skilled operator, is less costly than porcelain veneers and dental crowns and can be long-lasting with proper maintenance.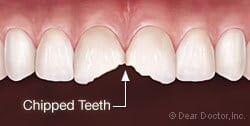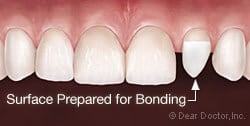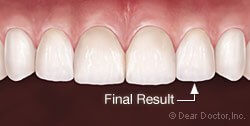 Dental bonding provides patients with cosmetic benefits. Bonding can repair a broken or chipped tooth or close gaps between teeth without the need for lengthy orthodontic treatments. Typically your AACD dentist can use dental bonding to improve the appearance of your smile in just one visit to the dentist office. Dental bonding can also be altered and patients are able to choose a more permanent cosmetic restoration in the future.
Requires less removal of tooth enamel
Repairs damaged or broken teeth
Can close gaps in teeth
Durable, lasting material
Can be molded and color matched to adjacent teeth
Natural looking results
Can be altered in the future
Ideal for developing smiles
Teeth are a perfect combination of both strength and resilience, and this is created through the fusion of enamel and dentin.
Enamel is the outer shell of the tooth or the portion that is visible within the mouth. It is composed of densely packed calcium crystals, which are very hard and resistant to wear. Enamel is composed of no living material and is effectively mimicked by dental porcelain.
Dentin is the inner core of the tooth and is much more porous. Constructed of collagen tubes with calcium crystals, dentin is living tissue and transmits nerve sensation. Composite resins have properties similar to dentin and are a combination of a plastic resin and silica filler. This combination of materials allows for excellent tooth color replication and reliable adhesion.
Tooth bonding is used in several different ways but is probably most useful for repairing chipped teeth. Bonding materials (high-density, modern plastics called composite resin) and porcelain are more natural in color and can be designed to perfectly match the surrounding teeth, making it difficult to discern there ever was a broken tooth.
Learn more about dental materials.
Transitional bonding is used for anything from a mock-up to a full-mouth rehabilitation. It's called transitional because it allows the patient to transition into more permanent dentistry as he or she can afford, or as the treatment sequence demands, and it allows the dentist time to work out any bite-related and aesthetic issues. Transitional bonding is an important tool in the skill set of an accomplished cosmetic dentist.
Dental bonding is a comparable alternative to dental veneers and ideal for young patients looking for a less permanent option for improving the aesthetics of their smile. Dental bonding is typically more cost-effective than dental veneers for patients looking to treat cosmetic concerns on a budget. Dental bonding requires less tooth enamel removal than porcelain veneers. Dental bonding allows patients to revisit their cosmetic concern at a later date when they are ready for a permanent dental veneer.